getMETAsmart DC!
Join us for an evening and learn how to make metadata work for you to better protect, promote and manage your digital images.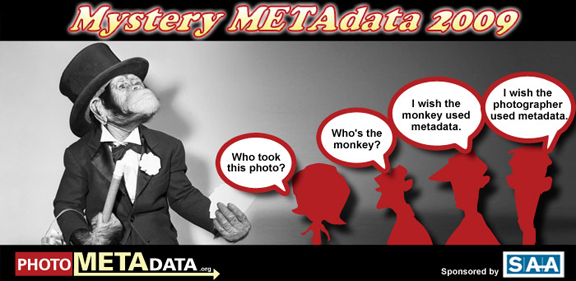 REGISTRATION
This is a free event with reservations accepted on a first come, first served basis.*
Register now to ensure your place and in order to be eligible for drawings of valuable software and services from Adobe, Microsoft, CameraBits and Photoshelter. See what you can win by attending!

*On site registrations will be accepted, space permitting

Date:
Thursday, 25 June 2009 -

4:15pm

-

9:30pm
PROGRAM
Introducing our Presenters
David Riecks
Allen Murabayashi
Joe Tresh
Randy Santos
John Harrington


4:15 to 4:45
Pre-Registration

4:45 to 5
Open Registration
5 to 5:30
MAKING A CASE FOR METADATA
You capture, photoshop and prep that image file to share or post. Is embedding metadata a part of your workflow? We'll share findings from our surveys, investigative studies, and anecdotal reports that will make the case why you won't ever want to skip this essential step to more effectively promote, protect, manage and archive your digital images.
Presented by David Riecks, SAA PhotoMetadata Project Leader
5:30 to 6:15
HOW METADATA MAKES YOU MONEY: SEO for Photographers
Understand how search engines work and how to get found by them. In this session, we'll share the recipe to strong Search Engine Optimization - a discussion of key SEO tactics from the PhotoShelter Photographer's SEO Cookbook.  Great SEO for your photography starts with metadata - how you name and describe your files, your captions and keywords.  From there, you'll need a smart keyword strategy in specific areas throughout your website.  Plus, as search engines evolve (almost daily), your metadata will play an even more critical role in helping Google - and hence, new clients - find you online.  Photographers seeking success marketing their photography online - with and without website design experience - will benefit from this discussion.
Presented by Allen Murabayashi, PhotoShelter Co-Founder and CEO.

6:15 to 6:45
GETTING FOUND: Using the Right Metadata Fields, Standards, and Tools
Exactly what kind of information do you need to embed to ensure that your images can be found, as well as ensure that YOU can be found? We'll explain why captions and keywords are critical, along with entering copyright and contact information into every digital file. Then we'll guide you to use proper metadata standards and meta-friendly tools to ensure that the information you've now embedded can be easily accessed and read by others.
Presented by David Riecks.

6:45 to 7:30
Reception
Join us for light food, drinks, and informal META talk.

7:30 to 8:15
EMBEDDING METADATA IS EASY (Really!)
The final step: Getting that metadata into your images, quickly and painlessly. We'll share some tips and hints to help you over the hurdles. We will demonstrate how to do this with a couple of the more popular software tools including Photoshop, Lightroom, Photo Mechanic and Expression Media.
Presented by David Riecks.
8:15 to 9:30
A Panel Discussion: TAPPING INTO THE POWER OF METADATA & SEO
Successful photographers share their SEO success stories and metadata workflow tips. Hear from photographers getting top Google results, how that impacts their businesses, and the hard work it took to get there.  Enjoy an in-depth discussion and Q&A to wrap up the event.
Moderated by Allen Murabayashi
Panelists: Joe Tresh, Randy Santos, John Harrington

Raffle Drawing


Expect to leave with the confidence
to join the ranks of the meta-smart!